Sankeys: The Extraordinary & Everyday
Photographs of 20th-century life in the North West through the eyes of Barrow's most famous photographers'" the Sankeys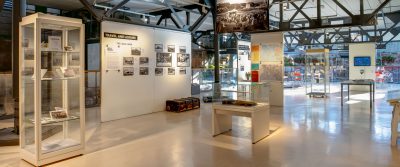 15 October 2021 - 09 January 2022
The Exhibition
In October 2021, our brand new Sankey Exhibition, Extraordinary and Everyday, opened at the Dock Museum in Barrow-in-Furness.

The exhibition was co-curated by Signal staff and Sankey volunteers and focused on exploring a number of themes from the collection - from people's everyday and working lives, to travel, tourism and maritime and shipping. The show included around 120 photographs from the archive, some of which had never been seen before.
"I just wanted to say "Well Done", on exhibiting such a wonderful history of Barrow. Sankey's collection reflects everything that showed Barrow at it's very best..."
Workshops & Activities
Visitors were able to find out more about the Sankey's family business and the history of their photographs and collection.

We invited a number of schools to take part in activities around the exhibition and pupils were able to get involved with our specially designed activity packs. The exhibition was accompanied by two talks from local historian and Sankey volunteer Geoff Holme, one in person and one online to allow those who weren't able to attend a chance to get up close to the photographs.